The man behind the wheel of a car that ploughed into cricket fans leaving The Gabba after a Big Bash cricket match was more than four times the alcohol limit, a court has heard.
When bystanders removed the keys from the ignition of the 1992 Nissan Skyline, the driver – whose blood-alcohol level was .217 – punched a Good Samaritan in the jaw and tried to restart his car.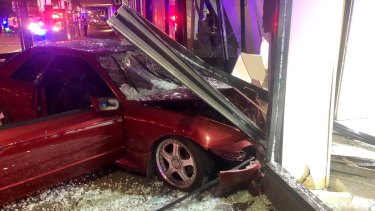 Liam Patrick Heston, 38, will spend at least 18 months in prison after he pleaded guilty to dangerous operation of a motor vehicle causing grievous bodily harm, common assault, and driving under the influence of liquor.
He initially said he would plead guilty in June 2020, but he then sacked his lawyers and changed his plea to not guilty. He changed his legal team once more and later reverted to a guilty plea.
The crash happened about 9.45pm on December 19, 2018, on the corner of Stanley and Allen streets in Woolloongabba. It was about half an hour after the Big Bash cricket match between the Brisbane Heat and Adelaide Strikers and most of the crowd had already left.
Judge Vicki Loury summarised the incident as "dangerous and foolish behaviour while intoxicated".
"You were first observed lying next to your car mumbling and slurring your speech," she said.
"You got into your car and started to drive along Stanley Street, stopping at a set of traffic lights. You accelerated heavily, causing the rear tyres of your car to break traction and spin. Your car fishtailed and slid on the road, almost colliding with another vehicle.
"You seemingly lost control of the car, it mounted the footpath and collided with three of the persons who were walking … they were propelled through a large shopfront glass window."